Columbus Party Bus & Limousine Rentals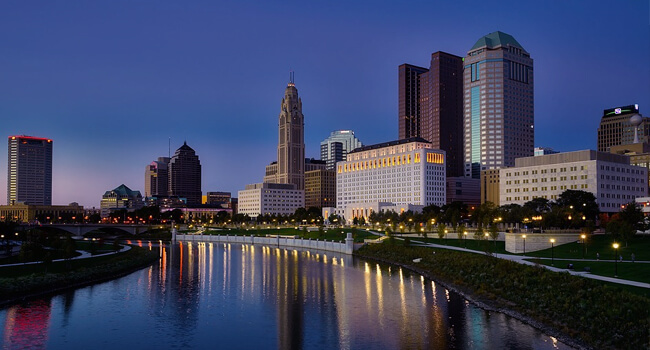 Party Bus Columbus is the place to call when you need luxury transportation for any event! Columbus Party Bus & Limousine provides top-quality service in the most luxurious limo buses for absolutely any event or just for fun! Columbus is a beautiful city with lots to do. There's simply no better way to spend a night out than on a luxury limo bus with all the best features. And what better place to be than the Columbus area for amazing things to see and do. We know that you are not going to want to miss the Franklin Park Conservatory and Botanical Gardens, German Village, Schiller Park and the Scioto Mile just to name a few. And believe us, when you ride to these destinations in one of our unbelievable vehicles, you will never look back.
Our vehicles are not the primary reason we are the best though. We owe that distinction directly to the people who make our company such a bastion of dedication to our clientele. You'll find that our limousines, party buses, and stretch limos are all painstakingly detailed inside and out before they leave our facilities. That's because our detailers have a steadfast sense of pride in ensuring that each and every vehicle is spotless and fresh for each client. And the features and amenities that we have installed are so phenomenal that you are going to truly understand why our vehicles are called a party on wheels. You are probably wondering what kind of fun features we are referring to. Well, it all begins with some amazing sound and for that we have installed a premium sound system with subwoofers. But don't worry, we have not forgotten about the multimedia as you are going to be able to gaze upon multiple high definition flat screens with DVD capabilities. But there is so much more. How about granite topped bar areas with built-in coolers of ice for your favorite libations. If you feel like moving to the groove you can just move on over to the special dancing area complete with dancing pole. And when you feel like resting, you are going to love the luxurious leather wraparound couch which is perfect for catching up with friends. And we can't forget to mention the color changing party lighting which is perfect to set the mood for some great fun.
The front line folks make a huge difference is setting us apart from the competition as well. Our booking agents have a collective knowledge surrounding this industry that would likely fill a library! Even more visible in your experience with us will be the professional, astute, and knowledgeable chauffeur who comes to pick you up. They have an uncanny attention to details, and will stop at nothing (except breaking the law, of course) to ensure that you are comfortable, happy, and ultimately satisfied with our world class limo and party bus services. It is our absolute passion to make sure that each and every customer that rides with us will have a huge smile on their face and if they do not, we will make things right. Something that we realize that a lot of companies do not is how important our customers are to our existence. To us, it is very simple. Without our customers, there is no us. So, treating the people who ride with us like family is a no brainer. And that is exactly what you can expect when you book with us. We believe in treating our customers exactly like we would want to be treated.
Take a look around our site to learn more about our company, or pricing policies, and our amazing fleet of limo buses. In fact, we highly recommend that you peruse our entire website and learn everything you can about what we do. Have a notepad and pen nearby so that you can jot down any questions or concerns that might crop up. When you feel like you have gleaned everything you possibly can from our website, contact our customer service office. Our friendly and very knowledgeable customer service agents are available 24/7, 365 days a year and they love talking about our vehicles and our service and how they can help make your plans that much better. We promise that we will never pressure you into making any kind of decision. if all you want to do is talk and ask questions about what we do, that is fine with us. But when you find that you are ready to move forward, one of our specialists will be more than happy to walk you through the easy and painless booking process. Our representatives are experts at matching groups to the perfect vehicle. So, when you are ready to book your reservation for the limo or limo bus of your dreams, just give us a call. We cannot wait to hear from you and talk about the possibilities.